Carrie Demmon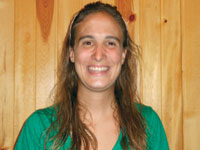 Ames, IA
Preservice Teacher
ReadWriteThink has endless possibilities to help increase the 'sparkle' of literacy lessons.
Carrie Demmon's Story
Making Your Lessons "Sparkle": Adventures of a Preservice Teacher
As a preservice teacher, writing lessons is daunting yet exciting. I began my first practicum, and I found that I wanted to make my lessons pop or sparkle because, frankly, they were mundane. The students read, wrote on lined paper and drew pictures on printer paper, and shared their work. Looking for ideas to create a more engaging lesson, it was recommended that I look at ReadWriteThink and the literacy lessons they provide.
When I began to explore the website, I was working on a particular second-grade comparison lesson. As I searched the site, I found that ReadWriteThink has so many options! There are many lessons for the different grades, and they are creative and interactive. The lesson that caught my eye was Book Sorting: Using Observation and Comprehension to Categorize Books. It included comparing books that the students were reading, and they used an online, interactive Venn Diagram. I was overjoyed that I found a resource that related to my lesson, and I was excited about the variety that the Venn Diagram could provide. I was not able to use the resource in my lesson, as the school did not have any technology available, but I will definitely remember the Venn Diagram as I gain more classroom experience. From one search to find information for one lesson, I found so much more.
ReadWriteThink is a resource that I will return to as I continue my adventures as a preservice teacher and as I begin my adventures as a licensed teacher. First, each lesson has a technology element. As more and more schools work to integrate technology into the classroom, ReadWriteThink will be an important resource. There is so much variety of technology-based resources in the different lessons. Second, the lessons on ReadWriteThink provide the "sparkle" element for which I am looking. Whether it is the technology resource or the plan itself, there is something that I can take away from each lesson. Third, the site is easy to explore and is constantly updated with new lessons and ideas. It will always be a site worth exploring. I am excited for my future literacy lessons and know that ReadWriteThink can help me reach my full potential.
BIOGRAPHY

|

ReadWriteThink Favorites

|

RECOMMENDATIONS
Carrie Demmon is a preservice teacher at Iowa State University. She began college as an engineering student because she loved science and math. However, she switched to elementary education because she discovered she wanted to make a difference in the lives of children. Her love for science and math continued as she began elementary education, but her literacy methods class introduced her to the excitement that can be found through a literacy lesson. After completing her first practicum, Carrie is excited for her future as an educator—even the literacy lessons she previously dreaded.
Don't be limited to just using the lessons that ReadWriteThink provides; it has calendar ideas and so much more.
Mix and match. Use ideas from ReadWriteThink to create your own AMAZING lesson!