In this section, you'll find an overview presentation of the site; a series of video demonstrations, each focusing on a different feature of the site or topic area; and session presentations that allow you to watch conference sessions at your convenience.
Site Overview
Want to do a presentation on ReadWriteThink? This ready-made PowerPoint covers all of the information that you'd want to cover as an overview to the site. Feel free to use it as is, or download and customize to meet the needs of your presentation.
Session Presentations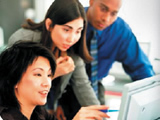 ​​​​​​​Have you been lucky enough to see a live ReadWriteThink-sponsored presentation? From national conferences to regional and local meetings, the site's content is often presented in front of a packed crowd. But if you aren't able to see us in person, we're bringing these presentations directly to you, online, so you won't miss out.