Kathy Wickline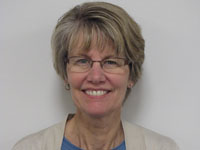 Tolono, IL
Librarian and Media Specialist
Unity Junior High School
ReadWriteThink should be a teacher's first stop in planning a new lesson. Its step-by-step instructions make failure impossible!
Kathy Wickline's Story
Empowering Students and Teachers with RWT
After nineteen years of teaching high school English and German, I switched to position of media specialist at a middle school. I thought I would be simply spreading my love of reading with this age group. Instead, I discovered that my position enabled me to work with other teachers to create lessons that combined reading, writing, and technology. ReadWriteThink is the perfect place to begin our search for these lessons. Through this cooperation between classroom teacher and media specialist, teachers are more willing to try out new technologies such as Glogster, Animoto, Voki and Farcebook. Additionally, this planning sometimes introduces teachers to the numerous resources that ReadWriteThink has for all areas of the school curriculum. ReadWriteThink is a valuable aid in planning these interesting student-centered lessons.
When looking for a new technology medium to engage students, we always examine the Teaching with Technology Strategy Guides. These are extremely helpful to avoid the pitfalls of applying a new technology practice in the classroom. Also, we examine the student interactives, especially the ones that students can save their projects to return to edit such as the Trading Card Creator. These ready-made templates, such as the Acrostic Poems and Plot Diagram, save valuable planning time, but more importantly appeal to today's students who enjoy working with computers.
However, who has really benefited from these cooperative planned lessons has been the students. When we learn a new Web 2.0 tool, the most frequent question is "Can we make these on own at home?" There is no better endorsement for using these new technologies and no better evaluation of student engagement than those simple words. Furthermore, these reactions have empowered teachers to join me as we learn more technology skills to share and teach our students, whose futures rely heavily on being computer literate.
BIOGRAPHY

|

ReadWriteThink Favorites

|

RECOMMENDATIONS
Kathy is the librarian and media specialist for grades 6-8 at Unity Junior High School. After teaching nineteen years as a high school English and German teacher, she moved to the school library to combine her love of reading and research with technology. Kathy particularly enjoys collaborating with teachers to develop engaging lessons for their students that feature technology.
Don't be afraid to experiment!
Tweak ReadWriteThink lessons to serve the needs of your students.