Marie Kelly Cowgill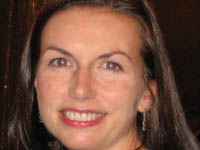 Newark, DE
First Grade Teacher
I was so pleased with the level of excitement and engagement that I observed in my students during these lessons. I'm looking forward to using ReadWriteThink even more in the future.
Marie Kelly Cowgill's Story
A Color of Her Own: Enhancing Language Arts With Leo Lionni
ReadWriteThink is a great resource and has played a direct role in my classroom. When I was planning an author study unit on Leo Lionni, I located a lesson plan on the site that included an interactive Venn diagram, a literature response sheet and directions for building a matrix that would analyze four of his stories. As a class, we read Inch by Inch, Swimmy, Frederick, and A Color of His Own. I was amazed with how well my students were able to identify the characters, setting, problem, solution, and ending in each of the four stories thanks to the tools I found. Since the lesson on Leo Lionni was so successful, I decided to use it again when we did an author study on Kevin Henkes. The students needed very little teacher support since they had already completed the matrix of the Leo Lionni books. We then added each group's note cards to the large matrix on the wall. They were so proud of what they had accomplished! The effects of these lessons were far reaching at my Newark, Delaware charter school. My students began asking our librarian for books by these authors. The other first grade teachers and I began talking about similar projects we could do in the next year. I've since moved on to teaching kindergarten, but the site has served as a catalyst for enhancing our entire language arts program in both grades.
BIOGRAPHY

|

ReadWriteThink Favorites

|

RECOMMENDATIONS
Marie Kelly Cowgill loves living in a college town and enjoys spending time with her family. She is married and has a daughter named Catherine. When she is not teaching, she likes going to the beach, skiing, attending University of Delaware football games and going to concerts. Her favorite reads are novels, children's books, Newsweek, and The Washington Post.
Many of the activities on ReadWriteThink are easy to modify. I changed the directions for making a matrix so that the students could work in cooperative groups to record the information. Then I saved the headings and laminated them for future use.
Another great thing to do is pull ideas from several different lesson plans to extend the work my class is doing. For example, when I looked for lessons on Leo Lionni, I found some great ideas for making paper bag puppets and book covers.