McCale Ashenbrener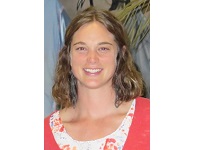 Boise, ID
English and Spanish teacher
Sage International School
ReadWriteThink is a fabulous resource for dynamic, engaging lessons without hours of prep time.
McCale Ashenbrener's Story
ReadWriteThink, a fairy godmother for busy teachers
I teach in a small rural district where every day I get to prepare six classes, Junior and Freshman English and Spanish 1, 2, 3 and Elementary Spanish. Needless to say I am often winging it and scrambling to craft awesome, well-designed curriculum. I feel like ReadWriteThink is my lesson planning fairy godmother. Speaking of, I used multiple RWT resources to create my fairy tale unit where we read common elements and situations of fairy tales. After a quick RWT characterization lesson with the Cat in the Hat, we read The Glass Slipper by Charles Perrault and different versions of Cinderella in various cultures, comparing and contrasting the characterization of Cinderella using RWT's awesome Venn Diagram interactive. Students then created an artistic representation of the two stories and defended their decisions with quotes. We analyzed how fairy tales help us to gain knowledge of the world and how that is reflected in the various cultural versions we explored, critiquing how this "moral instruction" often leads to outdated gender roles for both women and men. Students then modernize these outdated archetypes when writing their own fairy tale with the assistance of RWT's Story Map interactive to help them organize their ideas. I even used the local and global peer evaluation resources to help us workshop our finished fairy tales. Thank you ReadWriteThink for being an amazing resource for busy teachers through your clear and thorough lesson planning, depth and magic.
ReadWriteThink Favorites

|

RECOMMENDATIONS
RWT resources can be adapted to many disciplines to encourage and improve students writing.
Take risks with creative assessment.
No need to reinvent the wheel, let RWT help.